Top-Quality Window Cleaning Services in Maryland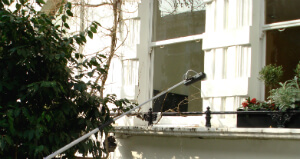 At Ashlee House Cleaning, we believe that clean windows can make a big difference in the overall appearance and feel of your home or business. That's why we offer professional window cleaning services in Maryland and the surrounding areas. Whether you have large windows, high windows, or windows that are hard to reach, our team has the tools and expertise to get the job done right.
Regular window cleaning not only makes your home or business look better, but it can also help prolong the life of your windows by removing dirt, dust, and other debris that can cause damage over time. Additionally, clean windows allow more natural light to enter your space, which can improve mood, energy, and productivity.
Additional Services Available
In addition to our window cleaning services, we also offer a range of additional cleaning services to keep your home or business looking its best. Our services include gutter cleaning, pressure washing, and house cleaning.
If you're unsure whether it's time for a window cleaning, here are a few signs to look out for: streaks, smudges, water spots, or visible dirt or debris on your windows. If you notice any of these signs, it's a good idea to schedule a cleaning sooner rather than later to prevent any potential damage or buildup.
Our Team:
At Ashlee House Cleaning, we take pride in our team of highly skilled and experienced cleaners who are dedicated to delivering exceptional window cleaning services. Our team is equipped with state-of-the-art equipment and techniques, ensuring that we deliver quality results every time.
Nearby Areas We Cover:
Whether you need window cleaning services for your home or business in Maryland, Ashlee House Cleaning has you covered. Contact us today to schedule a consultation and find out how we can help you keep your windows looking their best.
List of services we provide in Maryland E15: